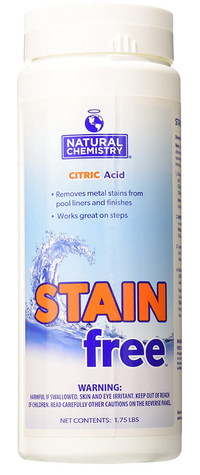 Stain Free - Natural Chemistry 1.75 lb.
Stain Free - Natural Chemistry 1.75 lb.

Stainfree is a citric acid product that removes metal staining on pool liners and finishes. Ideal for treating staining on all pool surfaces and is compatible with all sanitizing systems. Use Natural Chemistry's Metalfree and you have the ultimate 1-2 combination for stain fighting!
100% citric acid
Safely removed metal stains from pool liners and finishes
Effective on all pool surfaces- works great on steps
Compatible with all sanitizer systems
PureFilters - Canada's Leading Pool Supply Company
We deliver affordable pool supplies directly to your door to save you time and money. This allows you to focus on what really matters - enjoying your pool. 
Affordable quality products, fast delivery, and reliable customer service is what sets PureFilters apart. Shop with us to find out for yourself. If you need help placing your order, we're here to help - contact us via our live chat or at support@purefilters.ca.