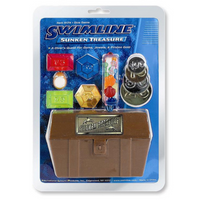 Swimline Sunken Treasure Hunt Game
Swimline Sunken Treasure Hunt Game
Search for sunken treasure in your own backyard! This fun diving and retrieval game includes coins, gems and jewelry with a realistic pirate's chest.
PureFilters - Canada's Top Pool Supply Source
We deliver affordable pool filters & pool supplies directly to your door to save you time and money. This allows you to focus on what really matters - enjoying your pool. Quality products, fast delivery, and reliable customer service; have helped us become one of Canada's top pool suppliers in Canada. Find out for yourself by shopping with us. 
If you need help placing an order, feel free to reach out via our live chat or at support@purefilters.ca.