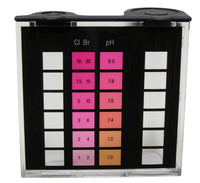 Taylor 2000 Cl/Br DPD/ pH 7.0-8.0 Comparator
Taylor 2000 Cl/Br DPD/ pH 7.0-8.0 Comparator
Keeping your pool water clean and well balanced is key to protecting your pool, and anyone swimming in it. Test your pool water 2-3 times per week for the perfect swimming environment.
2000 Series Comparator for Bromine & Chlorine(hi range), DPD/pH 7.0 - 8.0 
Manufacturer: Taylor
SKU: 9056
PureFilters - Canada's Top Pool Supply company
We deliver affordable pool filters & pool supplies directly to your door to save you time and money. This allows you to focus on what really matters - enjoying your pool. Quality products, fast delivery, and reliable customer service, is what makes PureFilters one of Canada's top pool suppliers in Canada. If you need help placing an order, feel free to reach out via our live chat or at support@purefilters.ca.