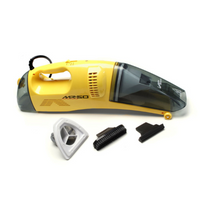 Vapamore MR-50 Portable Wet/Dry Hand Held Steam Vacuum Cleaner
Vapamore MR-50 Portable Wet/Dry Hand Held Steam Vacuum Cleaner
     
Only the eccentric designers at Vapamore could invent a unique hybrid fusing the power of steam cleaning with the ability to vacuum all in one hand held machine. Spills, pet stains, spots, and odors are easier than ever to remove from carpeting, upholstery and furniture with two operating modes built into one easy to use appliance.

Spills are cleaned instantly with a high temperature steam that is 100% chemical-free, protecting your family and pets from harmful components and the bacteria and allergens that live in old stains and spills. The MR-50 is the first portable wet / dry vacuum and steam cleaner hybrid of its kind. Its very existence elevates steam cleaner technology to the height of innovation.
Features:
Produces 210˚ Steam
Great For Home & Auto

Cleans & Sanitizes Without Chemicals

Remove Pet Stains Chemical-Free

Removes Dirt, Grease, Grime & Stains

Two Steam Modes Plus Vacuum Mode

Kills Germs, Dust Mites, Mold & Mildew

1300 Watt Water Heater
Shop PureFilters 
Steam cleaning is a game-changer when it comes to improving indoor air quality. It eliminates allergens, germs, and pollutants effectively, giving you a healthier living space. It also reduces the need for harsh chemical cleaners, which can worsen indoor air.
PureFilters was founded with one mission - to help Canadians find affordable products to solve their indoor air and water filtration needs. We source our products directly from trusted Canadian suppliers and manufacturers, ship directly to your home in 3-5 business days, and give you hassle-free returns and reliable customer service.
If you need help with your order, feel free to contact us via live chat, or email us at support@purefilters.ca.