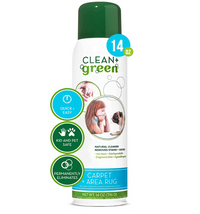 Clean + Green Carpet & Upholstery Pet Odour & Stain Remover
Clean + Green Carpet & Upholstery Pet Odour & Stain Remover
The Clean + Green Carpet & Upholstery Pet Odor & Stain Remover effectively removes stubborn household stains and odours (such as urine, vomit, red wine and pet stains). It goes beyond cleaning, it permanently eliminates stains and odours at the source using the Patented Encapsulation Technology. The Clean + Green Carpet & Upholstery cleaner and stain remover uses natural, and non-toxic ingredients. No chemicals, no headache-inducing smells, no ingredients that will trigger allergies. Natural, effective, and easy to use. 
Multi purpose - Use on carpets, sofas, mattresses, pet beds, scratching posts, rugs, cushions and chairs.
Easy to  use - Just spray. No need to soak, scrub or rinse. 
Kid and Pet Safe: Made with natural ingredients that are non-toxic, fragrance-free, unscented, non-flammable and hypoallergenic. Clean + Green products do not contain bleach, ammonia, dyes, phosphates, fragrances or other petrochemicals.
Eco-Friendly: Made with naturally-derived and biodegradable ingredients              (purified water, cane sugar derivatives, hydrated cellulose and a blend of proprietary botanical extracts, and a natural  nitrogen propellant. All ingredients are cruelty free and non biodegradable.
Clean+Green creates effective products for busy households and pet owners that balances performance, ease of use and Eco-Friendly sensibilities. 
Breathe easy with the PureFilters Promise

Indoor air quality is essential to our well-being, and Canadians deserve a company that understands that cleaner air leads to safer and healthier homes. PureFilters was founded with a mission - to provide Canadians with  affordable products that help them have better indoor air quality. PureFilters sources products directly from the manufacturer to pass the saving on to you - our valued customer. 
We're so confident in our promise that if you don't absolutely love this product, we'll give you your money back. No questions asked! And if you have any questions or need assistance with your order, we're here to help. Feel free to contact us anytime.
What makes PureFilters Canada's #1 supplier of quality indoor air products 
From quality products, to hassle-free returns, and superior customer service (with instant responses via chat/phone/email), our team at PureFilters goes above and beyond to contribute to cleaner air and safer homes. 
For great tips and articles about indoor air quality, check out our blog. 
PureFilters - keeping your air fresh, without the stress.