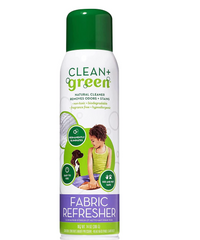 Clean + Green Fabric Refresher
Clean + Green Fabric Refresher 
Looking for a fragrance free way to eliminate those pesky odours from your fabrics and leather?  Trust Clean + Green to do the job, as there are no masking agents to disguise odours.  Simply spray your furniture, pet beds, pillows and most fabrics and watch it work on contact as it eliminates the odour.  Clean + Green Fabric Refresher is the perfect solution to keeping everyday odours at bay without introducing perfumes.
The natural ingredients are formulated to encapsulate the stain and odour.  The encapsulated stain and odour biodegrades naturally with no harmful chemicals, carcinogens or VOC's.  This process makes it a safe product for your pet, your family and our planet.
Ingredients: Cane sugar derivatives, proprietary blend of botanical extracts, hydrated cellulose (cleaning agents), purified water and nitrogen (propellant).
Best for Cleaning:
Furniture
Upholstery
Mattresses
Bedding
Vehicles
Cushions
Pet beds
Key Features:
Works on contact
Encapsulates odours which naturally biodegrades
Works on most upholstery
All natural ingredients
Safe for pets, people & the planet
Fragrance free
CFC free
Non-corrosive
Non-toxic
Non-carcinogenic
100% biodegradable


Breathe easy with the PureFilters Promise

Indoor air quality is essential to our well-being, and Canadians deserve a company that understands that cleaner air leads to safer and healthier homes. PureFilters was founded with a mission - to provide Canadians with  affordable products that help them have better indoor air quality. PureFilters sources products directly from the manufacturer to pass the saving on to you - our valued customer. 
We're so confident in our promise that if you don't absolutely love this product, we'll give you your money back. No questions asked! And if you have any questions or need assistance with your order, we're here to help. Feel free to contact us anytime.
What makes PureFilters Canada's #1 supplier of quality indoor air products 
From quality products, to hassle-free returns, and superior customer service (with instant responses via chat/phone/email), our team at PureFilters goes above and beyond to contribute to cleaner air and safer homes. 
For great tips and articles about indoor air quality, check out our blog.