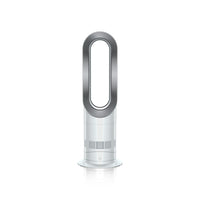 Dyson Hot/Cool Fan and Heater, White/Silver
Dyson Hot/Cool Fan and Heater, White/Silver
** Please note that this is a 'special order' item and shipping will take 2-3+ weeks **
Key Features:
Air Multiplier Technology
Intelligent thermostat maintains set temperature
Sleep Timer
Remote Control
Oscillation Control
No grills or blades to clean
Air Multiplier™ technology - Dyson fan heaters use Air Multiplier™ technology to create a powerful stream of uninterrupted airflow.

The only fan heater with Jet focus control - Focused mode for long-range powerful airflow, or diffused mode for wide projection.
Long-range powerful airflow - Select focused mode to channel and direct a powerful jet of air for long-range personal heating. No more sitting in front of the heater.
Wide projection to mix the surrounding air - Select diffused mode to project powerful airflow for both wide and long-range heat distribution. It heats the room quickly and evenly, no more cold spots.
Effective all year round - The Dyson Hot + Cool™ fan heater heats rooms quickly and evenly. And in warmer weather, it cools you effectively.
Precise, energy efficient heating - In heating mode, the intelligent thermostat monitors the room to reach and maintain the target temperature – no wasted energy.
Sound 75% quieter - Streamlined air channels for reduced airflow turbulence make AM09 75% quieter than AM05.
Sleep timer - Can be programmed to turn off after pre-set intervals ranging from 15 minutes to 9 hours.
Perfect for night time use - quieter with intelligent temperature control and sleep timer.
Remote control - With settings to adjust oscillation, temperature and airflow. Curved and magnetized to store neatly on the machine.
Oscillation control - Airflow can be directed around a room – one touch for smooth oscillation.
Easy tilt - AM09 pivots on its own centre of gravity, staying put without clamping.
Safe - No fast-spinning blades or visible heating elements. AM09 automatically cuts out if tipped over.
Easy to clean - With no awkward safety grilles or blades, Dyson fan heaters are quick and easy to clean.
Product Details:
 

Amp Diameter:
6"
  Base Diameter (in):
5-7/10
  Base Diameter (with plate):
8"
  Colour:
White and Silver
  Cord Length:
1.8m
  Temperature Settings:
Yes - to the degree
  Total Height (in):
25"
  Weight:
2.5kg
Breathe Easy With The PureFilters Promise
Clean and healthy indoor air is essential to our well-being, and Canadians deserve a company that gets it right. PureFilters was founded with one mission - to help Canadians enjoy healthy indoor air at an affordable price. PureFilters sources its products directly from manufacturers, cutting out retailers and passing the savings on to you - our valued customer. 
With Purefilters you get quality products, reliable customer service, free shipping across Canada, hassle-free returns, and a 30-day money-back guarantee.
Need help with your order? We're here to help - connect with us via live chat or email us at support@purefilters.ca.